Start by looking at the charter boat websites for suggestions:
http://www.rivieranautic.com.au/gippsla ... guide.html
http://www.bullscruisers.com.au/gippsland-lakes
https://www.sailfree.com.au/australia/gippsland%20lakes
You'll notice that both Riviera Nautic and Bulls use a map which is pretty much centred on Raymond Island/Paynesville, extending to Lakes Entrance top the east and just short of Loch Sport to the west. Loch Sport isn't terribly interesting and is more a water skiing area than sailing. It's also a very long drive from Paynesville or Lakes Entrance.
Paul will pop up and point out that there are some lovely spots down the south west end of the lakes, but theres more distance between things and the summer afternoon sea breezes are invariably strong easterlies discouraging returning from Loch Sport in the afternoon.
So, based in Lakes Entrance, in a car, what can/should you see in preparation for coming back with a boat?
First of all, drive west out of Lakes Entrance. When you get to the top of the hill there is a lookout and a pub on your left.
Turn right into Lookout Road and then right to access the fire tower at the top of the hill
which is where virtually all the tourist photos you see of the entrance are taken from.
Typical view of the entrance:
And looking further to the right over the east end of Rigby Island: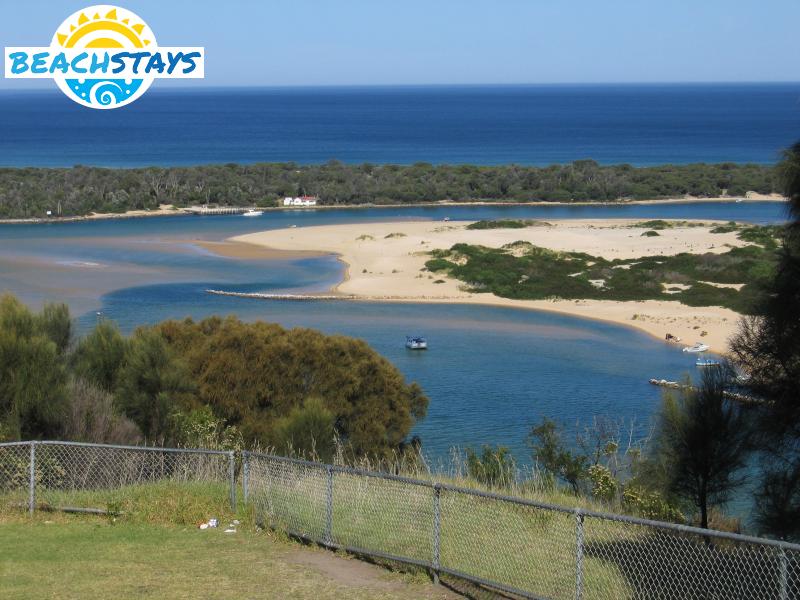 From here you can see the entrance, and Rigby Island (closest to Lakes Entrance) and Fraser Island (next island west), as well as Barrier Landing. Fraser Island is a resort; they have a couple of lovely aerial photos of this area on their website
here
, eg:
A short distance further west on the highway
turn down Kalimna Jetty Road
. There's a very basic ramp and a jetty here, a nice spot to watch the boats going by.
Between Lakes Entrance and Bancroft Bay (west of Metung), the lake is relatively narrow with high ground on the north side. At
Nyerimilang Heritage Park
there is a homestead on the clifftop which you can visit. It is not accessible from the water!
At
Nungurner
there is a boathouse, a couple of jetties, a few moorings, a park with loos and a BBQ. Doesn't sound like much but it's one of my favourite spots, especially by car.
Metung is next; the road approaches town down the west side of Chinamans Creek, passing Riviera Nautic (charters) and Metung Yacht Club. Have a good look around Metung since it is readily accessible from the water; there is a large public jetty complex next to the pub on the East side of Metung and the Lake King jetty next to the public toilets on the west side. There is a ramp and further toilets at Shaving Point, where you pass from the relatively sheltered waters to the east into Lake King to the west.
Returning to the highway, at Swan Reach there is a pub, petrol and a wharf on the Tambo River. If you can drop your mast on the water to get under the bridge, you can get about another 6km/3nm upstream from here before reaching ankle deep gravel about 1.5km south of the next bridge.
A couple of kilometres further west on the highway there are some more shops and Punt Road on your left leads down to the Tambo River, where there is a boat storage facility, a park and some BBQs, as well as access along a dirt track to the mouth of the Tambo River:
At Nicholson, on the highway at the Nicholson River there's a caravan park, ramp, loos, etc.
Once you get to Bairnsdale you can head in a variety of directions, so I'll end this post here.